Half Ton Woman At Center Of Murder Mystery: She Was At Death's Door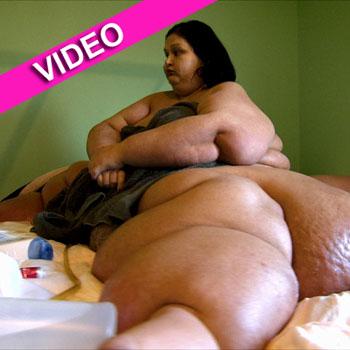 By Amber Goodhand - RadarOnline.com News Editor
Mayra Rosales weighs in at nearly half a ton and is the focus of TLC's newest show Half-Ton Killer? because of the bizarre murder mystery she's involved in and RadarOnline.com has the latest promo clip in which doctors reveal "she was on death's door" and couldn't have committed the crime.
Bedridden from massive obesity, Mayra confessed to crushing and killing her two-year-old nephew, Eliseo Jr., but given her weight and inability to even sit in a chair or roll over, investigators concluded she is so huge she could not have physically killed the boy.
Article continues below advertisement
TLC documents the first time Mayra has seen a doctor in more than a year and a half — a state appointed physician — and what they find is astonishing.
"She was at death's door when I met her. She had pneumonia and pulmonary edema," the doctor says in Half-Ton Killer?
"She might have made it a week had nobody intervened, but she wouldn't have made it any further."
The physician immediately sent Mayra to the hospital for further testing and treatment.
"In my entire clinical career, I've never seen a case like this. And that's the first I thought of when I saw her. I thought, you belong in the New England Journal, you belong in the Book of Internal Medicine," the doctor says.
"Mayra has to have 10 men to move her and it takes an extra wide ambulance."
As for her nephew's murder, it was a case that rocked the Texas town and became a global controversy as people marveled how one of the world's heaviest women could commit murder.
Article continues below advertisement
"Could they even give her enough poison to execute her?" marveled one investigator.
Doctors soon revealed that Eliseo was killed by a blow to the head, not crushed like his 31-year-old aunt claimed, as further digging into Mayra and her family unearthed disturbing secrets and a true story of law, love, and lies too bizarre to make up.
The much-anticipated premiere of TLC's Half-Ton Killer? airs Wednesday night with a one-hour special.