Exclusive
Joran Van Der Sloot 'Has Never Met Woman Who Claims He Got Her Pregnant,' Says Lawyer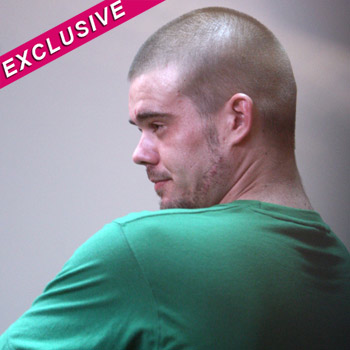 Article continues below advertisement
As RadarOnline.com previously reported, a woman identified as "Leidi" told Dutch newspaper De Telegraaf that the 25-year-old had knocked her up, but Cotrina revealed his client has never even met the impostor, who has since been named as Carol Figueroa Uceda.
"The lady who went to Piedras Gordas prison to see Joran had a baby boy in her arms who is by coincidence a white color and looks different to any Peruvian baby, who have darker skin. That is not from Joran either!"
Uceda is far from the first female who has tried to get up close and personal with the Dutchman, who is currently serving a 28-year sentence for the May 2010 murder of 21-year-old student Stephany Flores in a Lima hotel room, and she is the latest in a string of "stalkers" obsessed with the killer.
"There are a lot of women who want to meet Joran van der Sloot. Recently one girl from Germany and another from Switzerland. They asked Maximo (Altez) to let them visit Joran. They wanted to see and talk with him," Cotrina told RadarOnline.com.
Article continues below advertisement
"The German female was beautiful and gorgeous with blue eyes and blonde hair. She was in Lima calling for five days begging Maximo. The other girl was there 10 days, trying to get to see him because she wanted visitation with Joran.
"They aren't older ladies, they are young females of 23 or 24, the German was a college student."
Neither girl managed to gain access into the high security prison, as the only visitors he is allowed are his main attorney, Altez, and his mother, Anita.
"At Piedras Gordas, you go by the book and they only allow direct family," said Cotrina.
Despite the strict rules, some women do successfully sneak into the prison by telling the guards they are visiting other inmates, he went on to reveal.
"They come with the excuse that they are going to see someone else and when they get in to see these supposed relatives they go into the other building where Joran is held. They bypass the rules to get in there. Once they are in, they are free to go anywhere in the facility. The women are smart and it is nothing the guards can control," he claimed.
Article continues below advertisement
Contrina couldn't confirm whether the young, single killer sleeps with these women, however. "I don't like to talk in the press about how he likes to handle his emotional feelings that he has. It is a dangerous system," he told RadarOnline.com.
"Even in America women go to the prisons to get boyfriends, they get obsessed and want boyfriends and a relationship. The same thing happens in Peru."
When it comes to women who lie about being impregnated by inmates like Joran, his attorney feels that the women's babies are the real ones that suffer.
"When the baby comes out it will grow up and when it starts going to school someone can Google his name or his mother's name and link them to Joran.
"It is not fair that any baby be linked with him," he argued.
Last June, Van der Sloot was the target of a fake wedding hoax when people who organize mass marriage ceremonies at the prison spread a rumor he was going to tie the knot.
While serving time in Peru, the convicted killer still remains the prime suspect in the disappearance of an Alabama teen, who went missing from Aruba in 2005.