Joran Van Der Sloot Fighting Extradition To The US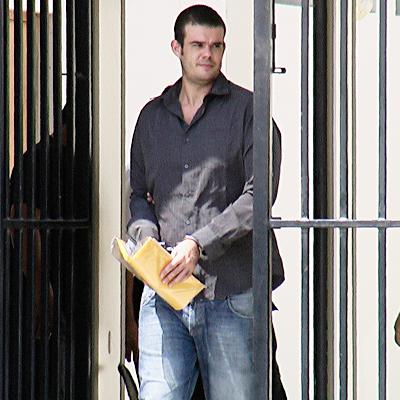 Convicted killer Joran van der Sloot is challenging attempts to have him extradited from Peru to the U.S. to stand trial for extortion and wire fraud charges in connection with the mysterious disappearance of Alabama teen Natalee Holloway in Aruba.
The Dutchman, who confessed to the murder of 21-year-old Stephany Flores in May 2010, appeared before a judge and prosecutor in a Lima, Peru courtroom for an extradition hearing on Tuesday and stated that he would prefer to finish serving a 28-year murder sentence there, reported CNN.com.
Article continues below advertisement
As RadarOnline.com previously reported, van der Sloot is currently serving a 28-year-sentence for the brutal beating death of Flores in a Lima hotel room, and extradition could affect his chances of parole.
In June 2010, a federal grand jury in Alabama indicted van der Sloot on charges that he tried to extort $250,000 from Holloway's mother, Beth Holloway. Van der Sloot offered to provide what turned out to be bogus information about the whereabouts of Holloway's remains in exchange for the money, according to the indictment.
While Joran made it clear to the court this week that he does not want to go to America, his lawyer Maximo Altez told InSession on Tru TV that he believes it is inevitable.
"I think he will be extradited within the next three months," Altez said last month. "He will go to trial in the United States. Once he is sentenced, he will return to Peru to finish serving his 28 years, and then go back to the States to serve whatever sentence he gets there."
Article continues below advertisement
If found guilty of extortion, the 24-year-old could be sentenced to 25 years in prison on top of the time he is already serving in Peru's maximum security prison Piedras Gordas for murder.
While he was arrested twice during the investigation of Holloway's disappearance from the island of Aruba in 2005 and kept in jail for three months, van der Sloot was never charged.
RELATED STORIES: