Glee Star Amber Riley Refuses To Bow To Diet Pressure: 'I'm Not Going To Do Something Crazy To Be A Size 2'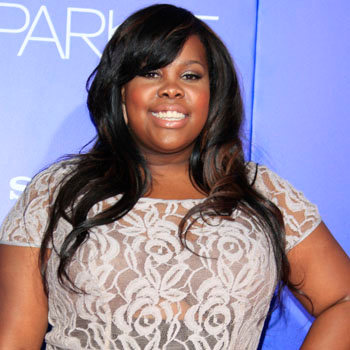 Glee star Amber Riley has tearfully admitted how years of rejection by Hollywood execs affected her body image.
The 26-year-old makes her comments in an interview for the MTV series This Is How I Made It, which airs on Saturdays.
Riley, who plays Mercedes Jones in Glee, says: "Hollywood is a very hard place to be in. It really is.
"Being the person that I am, being the size that I am, being a woman, being a black woman, there's not a lot of roles for us."
Article continues below advertisement
Riley then goes on to explain how – shortly after filming the TV movie St. Sass 10 years ago – she struggled to get hired because of her size.
The actress says: "After I did St. Sass I kept on auditioning. I was being offered roles like 'the girl who sits in the corner and eats all day,' 'the girl who wanted to commit suicide because she was fat.' It was never anything that I felt had a good ending.
"I never wanted to play a character that hated herself. I wanted people to know that those aren't the only kind of roles for women like me – normal girls."
The constant rejection weighed heavily on the teenager who took a brief career break and focused on finishing high school.
She tells MTV: "Going to auditions and having the casting director say: 'I think you need to lose a little weight,' I didn't understand why people couldn't accept me for who I was.
Article continues below advertisement
"And the rejection started wearing on my self-esteem. And that's when me and my mom decided to stop."
Since finding fame in Glee, where she has demonstrated her vocal talent, Riley has become a role model for bigger women.
She says: "I'm not going to conform and hurt myself and do something crazy to be a size 2…I'm a healthy person …
"And I think that's the key to life – make your own path, set your own rules because there is no set rule, there's no set look. There is no set anything."
Jenny McCarthy On Gaining Over 80 Pregnancy Pounds & Topping Scales At 211, 'All I Did Was Eat'