Bring It On! Beth Ditto Doesn't Mind All The Gossip About Her 'Fat' Body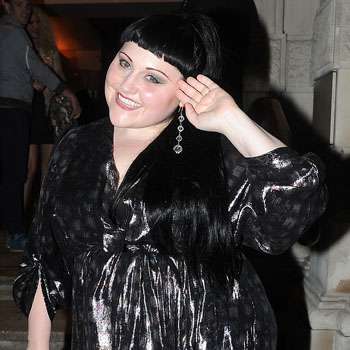 Other stars like Christina Hendricks may not appreciate the attention focused on their swerving curves, but Beth Ditto encourages the gossip!
The 5 foot tall, 210 pound singer opens about her weight and how she thinks it is great that "critics, fans and journalists talk about her body as much as her music" in a new interview with The Advocate – and RadarOnline.com has the details.
Ditto, who is engaged to be married to her girlfriend, Kristin Ogata, believes that the only way the music industry will be able to embrace full-figured women, is by being open about it.
Article continues below advertisement
"I think it's great," she says about how the attention that she gets because of her body will help other big girls break into the industry. "I feel like it's just like taking one for the team.
"I think it's really cool that there are people like Adele on the cover of Vogue and Rolling Stone, and I think it's really important that people are talking about your body, because if they don't, then you'll never be able to break that barrier."
MORE ON:
christina hendricks
"I know some musicians are like, 'Oh, it's all about the music.' But I come from riot grrrl, where it's not just about the music, it's about the political message, and that's just as important as the music to me. I don't mind being a guinea pig."
Despite the money and fame that comes will being a famous musician, Ditto admits that she still shops at Walmart for her everyday clothes, because they offer options for bigger women.