Glee's Accidental Tribute To Whitney Houston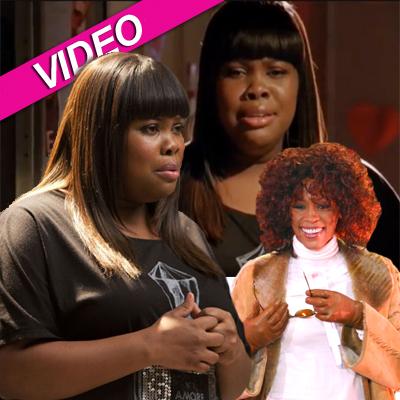 Tuesday's Glee was dedicated to the memory of Whitney Houston, coincidentally honoring the singer with a cover of her biggest hit that was planned prior to her untimely death.
The episode, which was submitted to Fox Friday -- a day prior to the singer's death at 48 Saturday -- was centered around a rousing rendition of 1992's I Will Always Love You, delivered masterfully by Amber Riley, who plays Mercedes on the Fox program.
Article continues below advertisement
Tuesday night, as the episode aired, Riley tweeted simply: "RIPWhitneyHouston."
"We chose to do the song and Glee co-creator Ryan Murphy chose to do the song to honor one of the great hits of all time," the show's musical supervisor P.J. Bloom told the Hollywood Reporter. "Obviously, we could not predict the unfortunately circumstances that happened this weekend but at the same time instead of focusing on the dark stuff, it's nice to have an opportunity to hear her in this way and celebrate the magic that Whitney brought to this industry."
Glee can be seen on Fox Tuesdays at 8/7c.