Katharine McPhee Says Smash And Glee Are 'Totally Different Shows'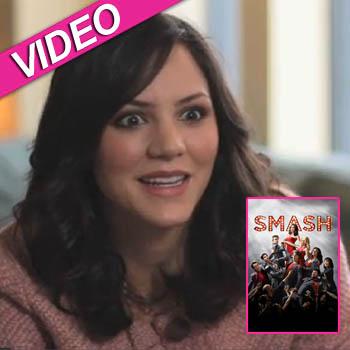 If you've read all the hype about the musical drama Smash and you think it's another Glee, Katharine McPhee says think again.
The American Idol runner-up says the new series – which premieres on NBC Monday – is nothing like the FOX network hit.
"I'm not saying that one is better than the other…" she tells Celebuzz, "They're just totally different shows."
Katharine plays Broadway hopeful Karen Cartwright in the much-hyped series. She says: "I know it always seems like one thing becomes popular and now they do like 50 versions of that.
Article continues below advertisement
"But at least I know that Smash has been in development for years.
"It's not just something that like 'now's the time because Glee's become so successful.'"
As RadarOnline.com previously reported, Smash is a behind-the-scenes look at a Broadway show.
Katharine plays one of two performers desperate to be cast as the lead in a musical based on the life of Marilyn Monroe.
Smash is bursting with talent including Anjelica Huston, Debra Messing and Jack Davenport.
Katharine lists the ways she thinks the two shows are different. The singer-turned-actress says Smash is a "drama" with "some moments of comedy."
"We are a drama about the making of a Broadway show and all the kind of things that go into making it," she says. "All of our songs are really kind of in context of the show.
"Glee has sometimes six or seven songs in an episode. We have maybe two or three songs. So, it really is still kind of story-driven and character-driven."
Article continues below advertisement
Katharine says to expect one or two well-known "cover" songs in each episode, but that one original song may also be thrown in. She says: "We introduce brand new songs, songs that people have never heard, which is a really tricky thing to do because people like something that's familiar…"
Katharine also promises that Smash will be "a little bit more adult" than its high school counterpart.
You can catch Smash Monday nights on NBC at 10/9 central.