How 'Smash' Is Bringing Broadway To The Small Screen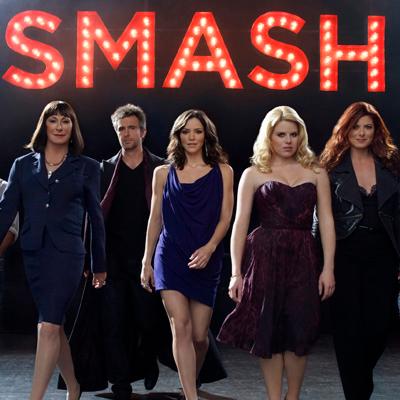 Two desperate and talented performers — Ivy (Megan Hilty), a Broadway veteran looking to move beyond the chorus line, and Karen (Katharine McPhee), a Midwestern girl stuck waiting tables — fight to star in a musical based on the life of Marilyn Monroe.
To get the lead role in the new musical drama Smash, they'll have to win over a writing duo that's out for one more hit (Debra Messing, Christian Borle), a producer in the midst of a messy divorce (Anjelica Huston) and a director (Jack Davenport) with an ego bigger than the Big Apple.
Article continues below advertisement
"I have always had an interest in theater," explains executive producer Steven Spielberg, "but it's that creative process — what goes on before the curtain even goes up — that really fascinated me."
The result is a behind-the-scenes look at musical theater with a few soulful show tunes for good measure (think: Glee meets The West Wing). And in a meta twist, the Marilyn production they're putting together on the show may one day be staged as a reallife Broadway musical.
As in the show, the stars of Smash each took a different path to get here. "I always said I would never do an hour-long drama, then everything went out the window," Will & Grace alum Debra tells Star. "I knew it was a once-in-a-lifetime script."
"I had the same reaction," adds Megan, a Broadway vet with Wicked on her résumé. "I was like, 'I need to be a part of this.'" And then there's American Idol Season 5 runner-up Katharine. She's up for the acting — it's getting used to the East Coast that's a challenge. "I'm a born and raised L.A. girl," she tells Star. "I love New York City, but it's only just gotten cold. Give me a couple more months and see how I feel!"
Premieres Monday, Feb. 6, at 10PM on NBC