Jessica Simpson Shows Off 60 Pound Weight Loss With Sister Ashlee In Florida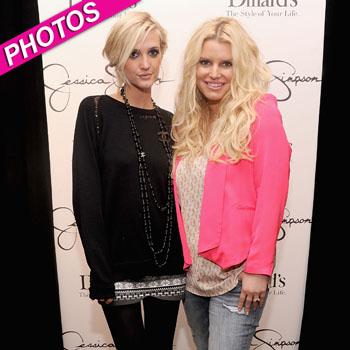 New mom Jessica Simpson and her younger sister Ashlee are continuing their nation-wide tour to promote Jessica's clothing line...and their latest stop was Tampa, Florida.
The two blonde bombshells were at a Dillard's department store on Saturday and it certainly gave 32-year-old Jessica another chance so show off her awesome post-baby weight loss.
The Simpson sisters looked stunning as they signed autographs and greeted fans in a bid to push Jessica's self-named fashion venture.
Article continues below advertisement
Jessica was pretty in a pink blazer while Ashlee, 28, also a mother of one, looked slightly edgier in a black top and beanie hat.
Since the birth of baby Maxwell in May, the Dukes of Hazard star has dropped an amazing 60 pounds...at her heaviest during her pregnancy the singer topped almost 200 lbs.
Jessica, engaged to NFL player Eric Johnson, has become the face of Weight Watchers and has spoken openly about the struggle she has keeping the pounds off and how a strict diet and grueling exercise regime have been the only way to keep the weight off.
However Jessica has admitted to "slipping up" recently amid the news of her parents' marriage break-up and the subsequent rumors that her dad is gay.
The allegations have obviously been distressing for the entire Simpson family, and while Joe Simpson denies being gay, the scandal has said to really have taken its toll on the girls.
The publiciity tour also comes as their father pleaded no contest to driving with a blood alcohol level of .08 or more in Van Nuys, California, and sentenced to 36 months probation, a three month alcohol education program and court fines.