Poor Waitress! Rudest Customer Ever Writes 'Stop Eating B**ch' On Receipt & Leaves No Tip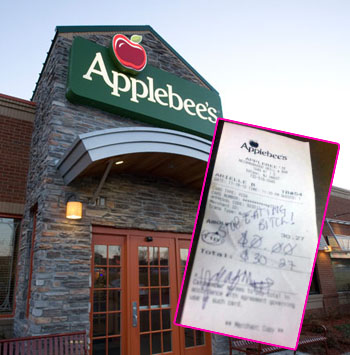 By Debbie Emery - RadarOnline.com Reporter
As if waiting tables wasn't tough enough, an overweight waitress at Applebee's had her hard work thrown back in her face when a rude customer left her a cruel message – and no tip!
The staff member at the the chain restaurant in Edison, New Jersey was devastated when she received a receipt from a customer late on Sunday night that stated in the tip line: "Stop eating, b**ch!" reported NJ.com.
Article continues below advertisement
The degrading incident occurred at around 11:30 p.m and involved a lone diner who paid for $30 worth of food on their Visa card, but left nothing but the damning message in the tip line, prompting a friend of the waitress - identified only as Arielle B. - to post it on Reddit.com.
The public slamming has caused outrage among hundreds of visitors to the website, where one commenter called the customer "classless trash" and another threatened: "It's not as hard to find people as it used to be."
It also prompted a response from the Edison restaurant's manager, Rohan.
"Everything is being forwarded to the corporate office," he explained. "These things don't come up that often, but when they do, corporate looks into it."
Applebee's spokesman Dan Smith said Tuesday he had seen the receipt but would not comment on the situation except to call it "unfortunate…But Applebee's has hundreds of thousands of great guest interactions every day. We'll focus on that instead."