Sean Penn Helps Raise $2 Million For Haiti At Cannes Auctio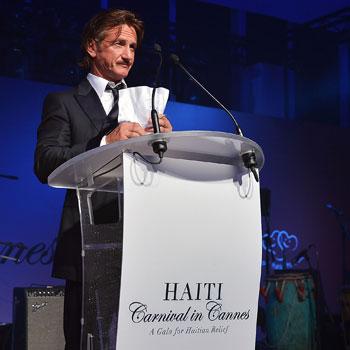 Sean Penn may sometimes be the most unpopular man in Hollywood but he got people to part with huge money for the opportunity to travel with him to Haiti.
Penn was the main draw at an auction fundraiser for Haiti he helped organize as part of the Cannes Film Festival. Penn's on-again-off-again-on-again girlfriend Petra Nemcova, and Oscar-winning writer/director Paul Haggis, who have also been activists for Haiti's recovery, were at the podium with him.
Article continues below advertisement
One item up for grabs was the chance to spend three days in Haiti with Penn.
struck in January 2010.
With three people going head to head, it was decided to let all three bidders accompany him on one of his mercy missions, with each wealthy bidder paying $128,000!
That $400,00 along other items including $215,000 paid for a guitar owned by Bono, and $115,000 for lunch with an unnamed Victoria's Secret model, brought the grand total to a stunning $2 million.