Exclusive
Natalie Portman and Zoe Saldana Lend A Hand to Help Impoverished Women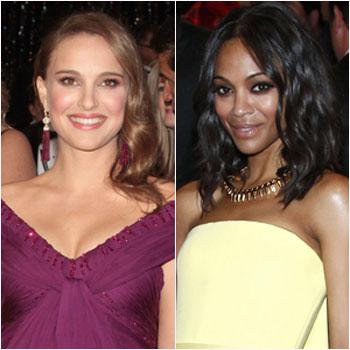 Hollywood stars Natalie Portman and Zoe Saldana are using their celebrity pull to help a little-known charity, RadarOnline.com learned on Friday.
The Oscar winner and the Avatar star are featured in a new video public service announcement for FINCA's International online donation community (a charitable microfinance organization), Lend A Hand, which is a virtual community that invites people to sponsor life-changing, small loans for low-income entrepreneurs struggling to escape poverty.
Article continues below advertisement
"I'm so proud to serve with FINCA in helping impoverished women become self-sustaining," said Ambassador of Hope and mom-to-be Portman in a statement.
"There is no better gift than giving women living in poverty the ability to provide for themselves and their families. When people donate to FINCA's Lend A Hand campaign, they are allowing a mother to have peace of mind that her children are fed, safe, and being given a chance at a better life."
Star Trek star Saladana echoed Portman's support. "There are so many women in the world who are less fortunate, and struggling to provide for their families," said Saldana, who lived in the Dominican Republic for seven years when she was growing up.
"FINCA is working tirelessly to help give these women a hand up, so that they are able to take care of their families and break free of poverty. Through this campaign, we hope to educate people about Lend A Hand, and show how a small loan can change the lives of so many women living in poverty-and better the lives of their children," added Saldana.
Article continues below advertisement
Portman has acted as an Ambassador of Hope for the past decade, and has been passionately committed to encouraging people her age to help fight against poverty.
"Her involvement has led her to visit multiple countries around the globe where she has witnessed, first hand, the positive effects of microfinance," said a charity spokesperson.
Inspired by Portman, Zoe Saldana joined the Lend A Hand campaign after seeing the tragic destruction following the massive Haiti earthquake in 2010.