Exclusive
Sean Penn Shows Off Soft Side: Pays Iraqi Veteran's $15k Medical Bill!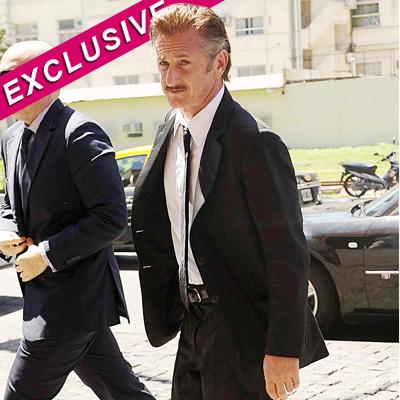 He may have a reputation as one of the most ornery actors in Hollywood, but Sean Penn also has a major soft (and generous) side, RadarOnline.com is exclusively reporting.
The ex-Mr. Madonna bad boy showed off that deep down he's actually a nice guy after generously footing the medical bill for a wounded war veteran -- to the tune of $15,000!
An eyewitness tells RadarOnline.com that Penn had a dinner party at his pad recently and one of his friends brought an Iraqi war veteran as her date. Long after the dinner and dessert was served, Penn got into a discussion with the guy who mentioned that he was drowning in medical bills incurred from injuries he got during the war.
Article continues below advertisement
"Sean really took an interest in this guy and was hanging on his every word. He became the guest of honor, really," the source says.
The soldier shared that during his tour, he had suffered a broken tailbone, two broken ankles and problems with his eyesight, and claimed he was still suffering the aftermath of his injuries. Penn asked him how much money he owed in medical expenses, and the soldier estimated around $15,000.
The Oscar winning actor excused himself and left the room. He returned minutes later with a signed check -- for $15,000!
"The guy was in total shock! He didn't know what to say and he started to tear up. He felt awkward accepting it and tried to give it back to Sean, but Sean refused," the source tells RadarOnline.com. "He actually went out of his way to make sure the guy felt comfortable accepting it. It was really sweet!"