Barefoot Tara Reid Stumbles Out Of Eva Longoria Yacht Party In Cannes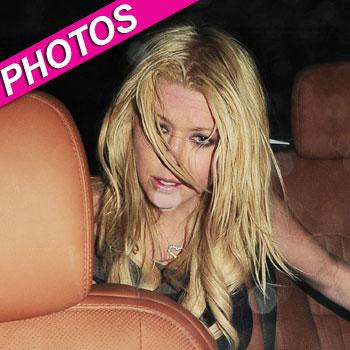 By the look on her face it seems that American Pie actress Tara Reid had a whole lot of fun in Cannes Friday night.
The 36-year-old blonde was pictured stumbling off the luxury yacht, Lady Joy, after attending a party hosted by former Desperate Housewife, Eva Longoria.
Looking sweaty and bedraggled – and possibly intoxicated – a swaying Tara exited the festivities guided by her friends, including ritzy jeweler Fawaz Grousi.
Article continues below advertisement
The actress was at the Cannes Film Festival to promote the latest in the American Pie franchise, American Reunion.
Reid wasn't the only celebrity onboard the nautical party. Sean Combs, Michelle Rodriguez, Ronnie Wood and Bridesmaids star Chris O'Dowd kept the boat rocking.
Alec Baldwin also made an appearance with his fiancée Hilaria Thomas, while Longoria arrived with on-off lover Eduardo Cruz.
Tara obviously had fond memories of the night because on Saturday she wrote on her Twitter page: "In Cannes amazing!"