Exclusive
Hailey Glassman's Harrowing Haiti Experience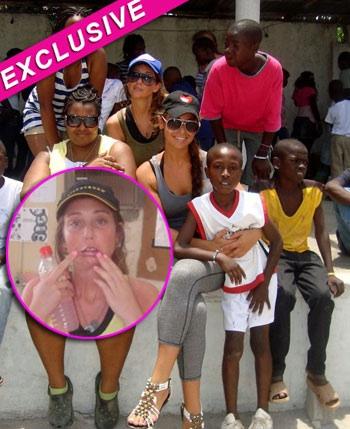 Hailey Glassman had every intention of going on a mission of goodwill when she and fellow reality star Kerry Schwartz headed to Haiti, but their fun adventure turned into a harrowing experience and RadarOnline.com has exclusive details and photos from their trip.
Glassman and Schwartz traveled to Haiti to help out local orphans, but things got off to a bad start straight off the bat.
Article continues below advertisement
PHOTOS: Hailey Shares Her Haiti Pics
After the girls landed in neighboring Dominican Republic they took a cab to Haiti when their cab driver hit a pedestrian. Suddenly the cab was surrounded by an angry mob and the girls fled for their lives, frightened of the growing crowd. As they were running Glassman fell on the ground and split her lip open.
After being rescued by police officers, Hailey and Kerry spent the night in a dangerous area without security, internet or medical assistance.
They finally managed to meet up with the charity organization though, Hailey got stitches in her mouth and the girls were able to meet and work with the orphans.
After the rocky start to the trip, Hailey and Kerry were able to spend some quality time with the orphans and learned about the struggles the children in Haiti face everyday as they fight for their lives.
"I've never been so thankful to be HOME," Kerry told RadarOnline.com via Celebrity blogger Tom Murro. "Our Haiti trip was cut a little short due to a traumatic experience Hailey and I had on the way to the border from DR. We almost didn't make it back.
Article continues below advertisement