Britain's Fattest Teen Undergoes Surgery After Being Smashed Out Of Home, Weighs 880lbs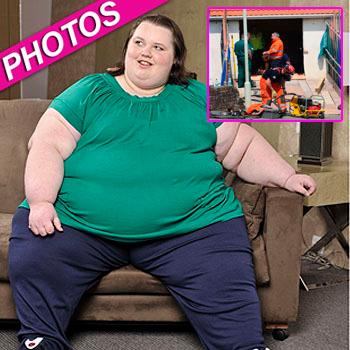 Georgia Davis has been dubbed "Britain's Fattest Teenager" weighing as much as 880 lbs.
When the 19-year-old collapsed with breathing problems and chest pains in the bedroom of her home in South Wales Thursday, authorities underwent an amazing eight-hour operation to evacuate her out of the house and to a hospital.
The 40-strong rescue team demolished the top half of her mom's house with sledgehammers and a circular saw to make a 10ft by 10ft hole.
Article continues below advertisement
They also tore down an internal dividing wall so Georgia could be removed from her back bedroom which had become her prison.
Georgia was then airlifted out by crane on a special stretcher that itself weighed 150 lbs and whisked away on a waiting ambulance that had to be reinforced to take her weight.
The young woman's mother Lesley is now by her side as she receives treatment but is said to be seriously ill.
The operation consisted of 28 officers from the local fire brigade, council officials, police, health authorities and scaffolding workers.
"I'm in bed but problem is I can't get up," Georgia told her Facebook friends just days before her seizure. "Earlier I was blocked in the toilet for 20 minutes and if you sit on the loo for that long it bloody hurts."
Georgia had been "effectively immobile for six months" after her weight rocketed this year.
Article continues below advertisement
She had weighed in at 460 lbs when she was just 15 years old and was diagnosed with Type 2 diabetes. Doctors told her to lose at least 280 lbs or she would die.
She then checked into a kids' weight loss camp Wellspring Academy in North Carolina where she lost 200 lbs in nine months by ditching her usual diet of cheese, biscuits and chocolate for lean buffalo meat burgers and started to exercise.
But within 20 months of her dramatic transformation she was back up to 566 lbs aided by her 13,000 calorie-a-day diet.