Tyra Banks On The Horrors Of Modeling: 'I Was Told I Was Too Fat For The Runway'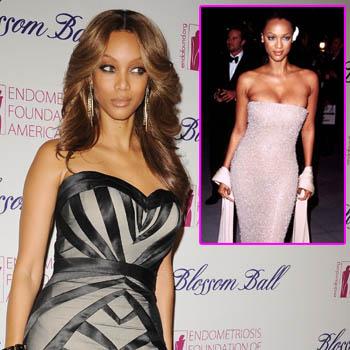 Tyra Banks may be one of the most famous supermodels in the world, but she didn't starve herself to get ahead!
The America's Next Top Model host reveals the horrors of the modeling industry in a new open letter to models on The Daily Beast in response to Vogue's decision to ban models who "appear to have an eating disorder" from their glossy pages – and RadarOnline.com has the shocking details about her experiences as a teenage model.
Article continues below advertisement
"The truth is that if I was just starting to model at age 17 in 2012, I could not have had the career that I did," reveals Tyra about how the modeling industry standards have changed. "I would've been considered too heavy. In my time, the average model's size was a four or six. Today you are expected to be a size zero. When I started out, I didn't know such a size even existed."
Tyra, who started modeling when she was very young, talks about what the modeling industry was like back when she first hit the catwalk.
"When I started modeling, I used to see models who seemed unhealthy backstage at fashion shows," she explains. "They appeared to be abusing their bodies to maintain a certain weight.
"In my early 20s I was a size four. But then I started to get curvy. My agency gave my mom a list of designers that didn't want to book me in their fashion shows anymore. In order to continue working, I would've had to fight Mother Nature and get used to depriving myself of nutrition," she reveals about the 'certain sample size that has been set by the industry.'
Article continues below advertisement
"As my mom wiped the tears from my face, she said, 'Tyra, you know what we're going to do about this? We're going to go eat pizza.' We sat in a tiny pizzeria in Milan and strategized about how to turn my curves into a curveball. In a way, it was my decision not to starve myself that turned me into a supermodel, and later on, a businesswoman."
To read Tyra Banks' open letter, click here.
RELATED STORIES: