Dannielynn 'Won't Follow In Anna Nicole's Footsteps,' Vows Dad Larry Birkhead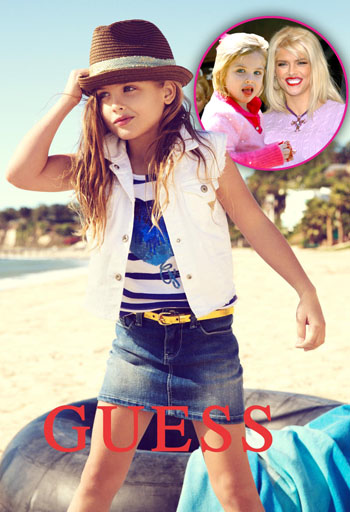 Article continues below advertisement
Birkhead says critics have "jumped the gun thinking (Dannielynn) would be a full-time model – I don't want that for her. Modeling wasn't Anna's downfall; it didn't make her lose her life," he told In Touch Weekly.
As RadarOnline.com previously reported, Dannielynn, 6, is the new face of GUESS Kids, and like her mother, who soared to international fame as a GUESS girl in the 1990s, she is featured posing in denim duds for the brand's children's line as part of their Spring 2013 campaign.
However, instead of growing up in the glitz and glare of Hollywood, Dannielynn's life with her 39-year-old single dad in Louisville, Kentucky couldn't be more down to earth.
"I don't have a nanny. I do everything myself. The shopping, hairstyles, doctor's appointments and school plays, field trips. I spend every ounce of my energy on Dannielynn," he explained.
Dannielynn was only five months old when Smith died from an accidental prescription drug overdose at the Seminole Hard Rock Hotel and Casino in Hollywood, Florida in February 2007, but Larry is determined that she will never forget her.
MORE ON:
Anna Nicole Smith
Article continues below advertisement
"She'll blow a kiss up to heaven and say, 'I love you, Mom.' She flips through all her mom's dresses. She misses her very much," said her doting dad.
As for the colorful campaign that was shot by photographer Elliston Lutz in Malibu, "I think Anna would really like it. The GUESS ads were one of the positive things that Anna did. She'd be really proud that Dannielynn got to be a GUESS girl. It's cool to have her picture next to her mom's," Birkhead said.