Anna Nicole Smith's Daughter Dannielynn Asks, 'Why Did Mommy Die?'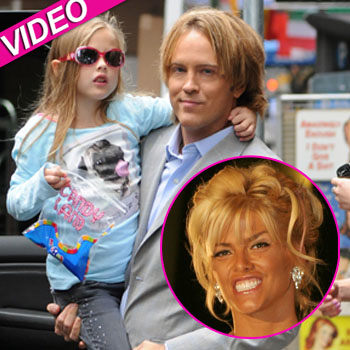 Article continues below advertisement
During the father-daughter trip to the Caribbean island where both her mother and half-brother, Daniel, are buried, "She said, 'Why did mommy die?'" revealed Birkhead. "And I said, 'You know, they, doctors couldn't fix her. But if you're good … you'll get to see her someday.'"
As RadarOnline.com previously reported, Smith died from an accidental prescription drug overdose at the Seminole Hard Rock Hotel and Casino in Hollywood, Florida in February 2007, and while she never got to see her grow up, we are sure the former Playmate of the Year would be proud of her little mini-me.
Despite the trauma of her infant years - which included her big brother, Daniel, dying just just days after her birth, and a heated paternity battle involving Anna Nicole's personal attorney Howard K. Stern - Dannielynn has blossomed into a beautiful, happy little girl.
"I've always tried to make adjustments," Birkhead, 39, told GMA co-anchor Robin Roberts. "We adjust to paparazzi."
The single dad admitted that sometimes they wear outfits to disguise themselves, and at other times they just retreat to the privacy of his home state of Kentucky, just to be "normal."
Article continues below advertisement
Having raised Dannielynn since her mother's death at 39, Larry admitted that being a single dad is both challenging and fun. "I never knew it was going to be this hard," he said, adding, "I enjoy every day and every day is an adventure. You wish you had a couple more hours in each day."
While he does his best to hide his daughter from the dark side of her legacy, he also wants to make sure she is aware of life's dangers.
"I hope that she understands that no one's perfect and people have triumphs and people have tragedies. And her mom really… soldiered on and she came from nothing and she, you know, lived her dream," said Larry.
"But I also want to make things a cautionary tale … and give her the tools that she needs to where she has the opportunities that her mother and Anna's son, Daniel, you know, won't have."
Dannielynn is now old enough to want her dad to be happy too by encouraging him to get married – but their taste in potential suitors is very, very different!
Article continues below advertisement
"She says, you know, 'Daddy, why don't you go get married?' I said, 'Well, who do you want me to marry?'
"Well, why don't you marry Lady Gaga?" he said, laughing. "You know, I'm thinking, you know, down-home Kentucky girl and she's thinking Lady Gaga. So maybe we'll meet in the middle somewhere."
Desperate for a mom, there is not a single day that goes by when she doesn't ask him about walking down the aisle again. "She made a Mother's Day card at school and I said, 'Do you want to make it for your mom in, you know, heaven? And she says, 'Yes,'" explained Larry.
"But then she brought it to me and she says, 'You can have it and maybe you can give it to your new wife.'"
Even though he is keen to move on with his life, Larry doesn't want to forget about the past too. "It's hard to move on in that way because you have this little 47-pound reminder of her mother walking around," he said. "And you have all these images that are still so much very alive that you have to deal with every day.
Article continues below advertisement