Daddy's Little Girl Is Growing Up! Larry Birkhead Takes Dannielynn Shopping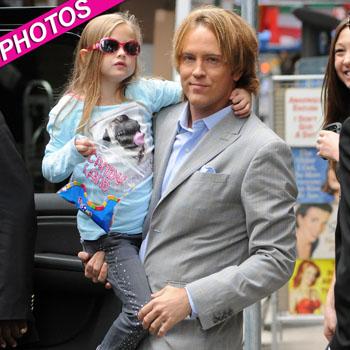 She may be daddy's little girl, but Dannielynn Birkhead looks more and more like her mom every day!
The former lover of the late Anna Nicole Smith, Larry Birkhead, spent Thursday afternoon in New York City with their little girl, taking her shopping at Toys R Us – and RadarOnline.com has the adorable photos of their excursion.
The gorgeous 5-year-old, who looked super cute in embellished jeans, a pug shirt, Converse kicks decorated with colorful wings and red sunglasses, munched on a bag of candy as she enjoyed some quality time with her doting dad.
Article continues below advertisement