All About Nahla! Halle Berry's Adorable Daughter Wants…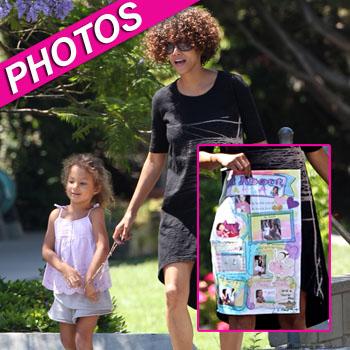 Get up close and personal with Halle Berry's daughter Nahla Aubry!
The big screen bombshell picked her adorable little girl up from school Tuesday, proudly showing off Nahla's end of the year project, revealing all of the 4-year-old's favorite things and wishes – and RadarOnline.com has the details.
While it isn't surprising that Nahla's favorite colors are purple and pink and that when she grows up she wants to be a ballerina, she also reveals that the one thing that she wants most of all is a baby sister – and also a bunk bed.
Article continues below advertisement
"I sleep on top," she added, along with a photo of a baby girl and a genie lamp.
Also included on her colorful collage was a photo of her along with her father, Gabriel Aubry and Halle during happier times.
The former couple is currently embroiled in a nasty custody battle, with the Academy Award winning actress attempting to take her daughter to live in France with herself and her new fiancé, Olivier Martinez.
MORE ON:
hollywood happenings