Newly Engaged Halle Berry: I Never Thought I'd Marry Again!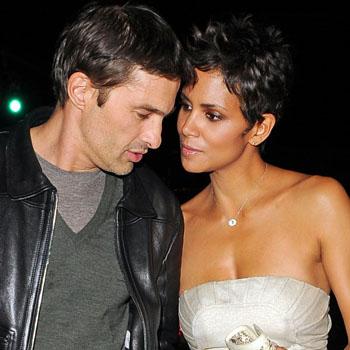 Halle Berry has laughed off her prior claims that she would never tie the knot again after she accepted Olivier Martinez's proposal earlier this year.
The actress confirmed her engagement for the first time over the weekend although her sexy French fiancé spilled the beans last month.
"Who knew I'd get engaged again?" she giggled to Extra while flashing her diamond and emerald sparkler. "I swore it off, right? Never say never, people!"
Article continues below advertisement
Halle was previously married to baseball star David Justice and singer Eric Benet, both marriages ended badly with Berry accusing Justice of domestic violence and Benet of infidelity.
The actress told InStyle back in 2007 that she "will never, never get married again."
Halle met Olivier, who previously dated Australian pop sensation Kylie Minogue, on the set of their movie Dark Tide in 2010.
The Oscar winning star is still embroiled in a bitter custody dispute with her baby daddy Gabriel Aubry over their four-year-old daughter Nahla.
MORE ON:
hollywood happenings