VERDICT: Anna Nicole Smith Confidantes Howard K. Stern & Eroshevich Guilty; Kapoor Aquitted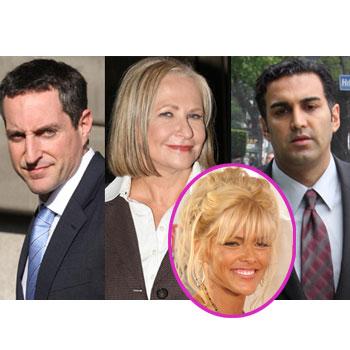 Anna Nicole Smith's one-time confidante Howard K. Stern, psychiatrist Khristine Eroshevich and medical internist Sandeep Kapoor discovered their fate in a Los Angeles courtroom Thursday when the verdict of the 12 person jury was read to the court.
Stern was found guilty on two of the nine charges against him – guilty of conspiracy to commit a crime and conspiracy.
COURT DOCUMENTS: Read The Verdict Forms
Article continues below advertisement
Eroshevich was found guilty on four charges including conspiracy, unlawfully prescribing an opiate and using a false name for the prescribing of an opiate. The jury was deadlocked on additional charges against the psychiatrist for furnishing prescriptions to an addict. The judge has declared a mistrial on those charges.
EVIDENCE: Do These Photos Prove Anna Nicole Was Not A Drug Addict?
Kapoor was acquitted on all six charges against him – including two charges of conspiracy.
EXCLUSIVE COURT DOCUMENTS: Read More About The Jurors' Questions
The fate of the three defendants went to the six-man, six-woman panel on October 12 and deliberated for nearly two weeks.
Looking tired and gaunt, Howard K. Stern arrived at the courthouse 30 minutes prior to the scheduled reading of the verdict. The one-time attorney dressed in a dark suit, white shirt and blue tie appeared to be taking the fate of his future very seriously as he paced throughout the courtroom hall.
Article continues below advertisement
Kapoor arrived to court at 1:30pm PST when the verdict was scheduled to be read – Eroshevich was 5 minutes late and kept the court waiting which displeased the judge.
As RadarOnline.com previously reported, on Wednesday the jurors had two questions for the judge - the first question was: "What should we do if we are unable to come to a verdict on a count or an object crime?" This could be a bad sign indicating the jury could be deadlocked on certain charges against the trio.
The second question they asked was: "If a juror were to believe that prescriptions were written in excessive amounts, does it follow that these prescriptions also have no legitimate medical purpose?"
Closing arguments earlier this month were sure to have had an impact on the jury's verdict Thursday.
Stern's attorney told the jury there was an ``abundance of reasonable doubt'' in the prosecution's case against Stern and the two doctors.
Article continues below advertisement
But Deputy District Attorney Renee Rose said the evidence presented during the trial showed ``that these defendants knew what they were doing was wrong'' and that "they knew their conduct was unlawful.''
Kapoor's attorney, Ellyn Garofalo, said the criminal case against her client never would have been brought if Smith had not been a celebrity.
"Our laws are designed to stop (prosecutors) and law enforcement from second-guessing physicians. If Anna Nicole Smith was not a celebrity, Dr. Kapoor would not be sitting here,'' she said.
COURT: Anna Nicole Smith Was Obsessed With Drugs, Says Former Bodyguard
Eroshevich's attorney, Bradley Brunon, said in his closing argument that she reached out on an "emergency mission" to help Smith after Smith's son died and did what she could to try to help her in a time of crisis.
In September, Los Angeles Superior Court Judge Robert J. Perry granted the defense's motion to acquit Stern of fraudulently obtaining a prescription for methadone and Dilaudid and getting a prescription for the two drugs by giving a false name.
Article continues below advertisement
The judge also knocked out a portion of the allegations in one of the conspiracy charges against Stern and Kapoor, ruling the prosecution had not presented sufficient evidence that the two had conspired to obtain a controlled substance by fraud, deceit or misrepresentation or issue a prescription that was false or fictitious.
Nine felony charges remained against Stern, including conspiracy, unlawfully prescribing a controlled substance, obtaining a prescription for opiates by fraud, deceit or misrepresentation, obtaining a prescription for opiates by giving a false name or address and prescribing, administering or dispensing a controlled substance to an addict.
Kapoor and Eroshevich were each charged with six felony counts.
Anna Nicole Smith died from an accidental prescription overdose in Florida on February 8, 2007. She was 39.
Stern and Eroshevich will be sentenced on January 6th.
Spokesperson for the Los Angeles District Attorney's office, Sandi Gibbons, tells RadarOnline.com that Stern and Eroshevich could face up to three years maximum in state prison on all charges.