Larry Birkhead To Take Stand Again Friday In Anna Nicole Drug Trial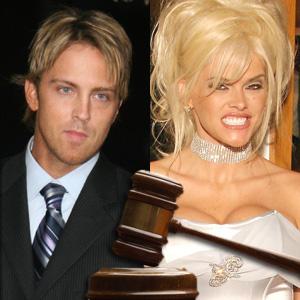 Larry Birkhead, the father of Anna Nicole Smith's young daughter, will take the stand for a second day Friday in a Los Angeles courtroom to testify in the trial of three people charged with supplying the late reality TV star with too many prescription drugs.
In court Thursday, Birkhead testified he saw Smith taking numerous prescription drugs, but said she told him she was not an addict, but that she had a high tolerance for the meds.
Article continues below advertisement
Birkhead said he was so concerned he once hid her Methadone, only to be scolded by Smith's attorney and rumored boyfriend Howard K. Stern, who told him she couldn't live without it.
As RadarOnline.com has previously reported, Stern, Dr. Khristine Eroshevich and Dr. Sandeep Kapoor have all pleaded not guilty to conspiring to unlawfully provide excessive drugs to Smith and other related charges.
This past February, Stern told RadarOnline.com that he's eager return to court and get the trial started so he can be fully vindicated, and that he's looking forward to cross examination, where he says the prosecution's witnesses will be exposed as liars.