COURT: Anna Nicole Smith Was Obsessed With Drugs, Says Former Bodyguard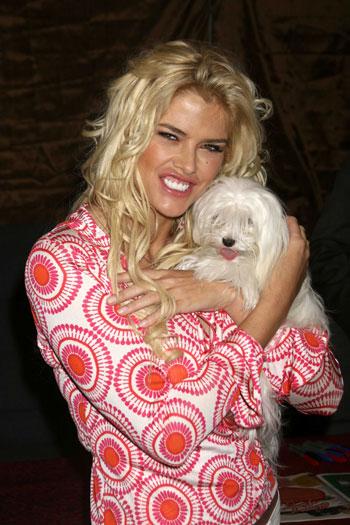 Anna Nicole Smith was injected with drugs and swigged sedatives from a bottle in the run up to her death, according to the man who tried to revive her.
Her former bodyguard, Maurice Brighthaupt, has lifted the lid on the extent of Smith's drug addiction and RadarOnline.com has the details.
Opening Statements Begin Wednesday In Anna Nicole Smith Drug Trial
"She would ask for it first. If it's not given, she would demand it - like an addict," Brighthaupt told a Los Angeles court as he gave evidence in the trial against Howard K Stern and doctors Khristine Eroshevich and Sandeep Kapoor.
Article continues below advertisement
"She was obsessed.''
The trio are accused of conspiring to prescribe and administer drugs to Smith, who died from an accidental overdose on February 8th 2007.
And Brighthaup's damning testimony only fueled the case against them.
He told jurors about an incident when he saw Stern injecting Smith with a substance believed to be Valium from a burnt spoon.
He also described watching her drink straight from a bottle of sedatives.
"She was incredibly depressed. She was in pain,'' he said, about the reality TV star.
"For the most part, she was in bed sleeping... over 12 hours on occasion."
During his time on the stand Brighthaupt described his former employer "a hurt lady" who was "depressed" after the death of her son, Daniel.
All three defendants have pleaded not guilty to the felony charges.