America's Fourth Richest Woman Revealed To Be Anna Nicole Smith's Daughter In Law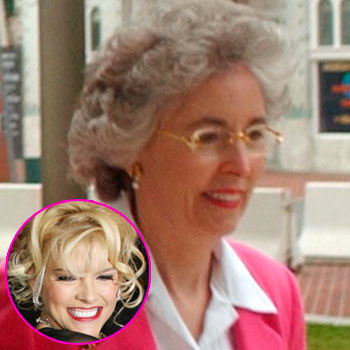 By Debbie Emery - RadarOnline.com Reporter
A Texas heiress has managed to hide from the public eye despite having $12.4 billion in the bank and being the unlikely daughter-in-law of late Playboy bombshell Anna Nicole Smith.
Elaine Tettemer Marshall, 77, has been named the fourth richest woman in America, but has been unknown to billionaire hunters and celeb-watchers until now because of her laid-back lifestyle, despite her father-in-law being the notorious J. Howard Marshall, who married Smith when he was 89 years old and she was just 26.
Article continues below advertisement
"She's extremely low-key," Peter Newcomb, editor in charge of the Americas for Bloomberg News's Billionaire Index , told ABCNews.com.
Despite her estimated worth that only puts her behind two Walmart heiresses, Alice and Christy Walton, and candy company beneficiary Jacqueline Mars, Elaine is not flamboyant with her huge fortune, the size of which has come as a great shock to financial experts.
The skill at which Elaine and her late husband, E. Pierce Marshall, have avoided the spotlight is a sharp contrast to the tabloid world that his father was catapulted into when he walked down the aisle with former stripper, Smith.
The source of Marshall's billions is Wichita's Koch Industries, second-largest closely-held company in the U.S., which Pierce Marshall owned 15 percent of, although he tried to downplay his family's mammoth wealth. "Forbes' calculation of my father's wealth is a wildly inflated fantasy," Pierce Marshall claimed in a statement before his death in 2006.
Anna Nicole and Pierce previously viciously battled over the Marshall fortune when her elderly oil tycoon husband died in 1995, but the pinup was eventually beaten out by the legal powerhouse of the Texan tycoons and she not only lost the bitter legal wrangling but also died owing $300,000 in back taxes.
Article continues below advertisement
While Elaine lives a modest life in Dallas, Smith's own daughter, six-year-old Dannielynn has had an equally laid-back upbringing in Louisville, Kentucky, with her father, Larry Birkhead.
Dannielynn was just five-months-old when her mother died at the Seminole Hard Rock Hotel and Casino in Hollywood, Florida in February 2007, and while she never got to see her grow up, the pretty blonde has turned into the perfect little mini-me.