Sexy Swimsuit Alert! 86-Year-Old Duchess Of Alba Rocks Her Bikini Again!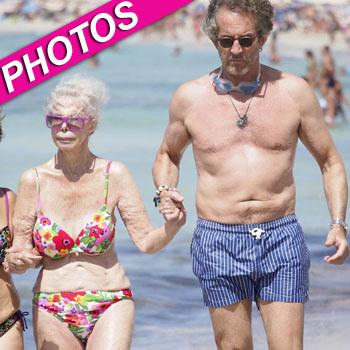 By Alexis Tereszcuk - Radar Entertainment Editor
The Duchess of Alba does it again! The eccentric 86-year-old billionaire donned her floral bikini and hit up the waves with her 61-year-old husband, and RadarOnline.com has the photos from their fun day in the sun.
The Spanish aristocrat is clearly low maintenance when it comes to fashion – this is the second time she's worn the pretty two piece suit and purple sunglasses. She wore a bright red flower bow in her hair to complete the outfit.
Article continues below advertisement
In all her glory, Maria del Rosario Cayetana Alfonso Victoria Eugenia Francisca Fitz-James Stuart y Silva held tightly onto her husband Alfonso Diez's hand as she took a dip in the Mediterranean on her summer vacation on the Spanish island Formentera.
The Duchess of Alba and Alfonso were married in an extravagant ceremony in October 2011 in her 15th century palace in Seville, Spain.
Just like many Hollywood stars, the head of the 539-year-old House of Alba faced a sex scandal earlier this year when a 30-year-old photograph of the duchess as she sunbathed topless in Ibiza was splashed on the cover of the racy Spanish magazine Interviu.