Bikini Babe! Eccentric 86-Year-Old Billionairess The Duchess Of Alba Hits The Beach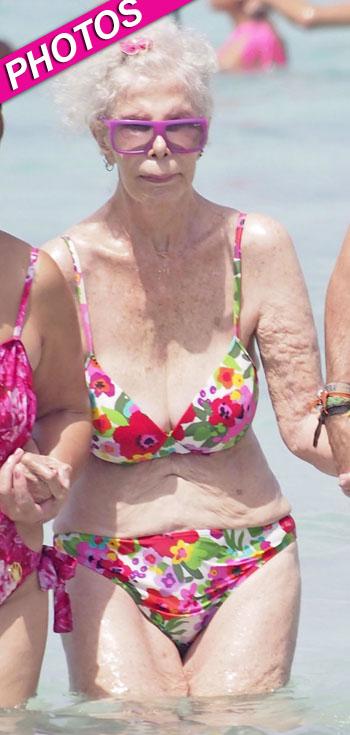 By Debbie Emery - Radar Reporter
Surf's up for Europe's most eccentric royal!
Proving that you are never too old to wear a two-piece, the 86-year-old Duchess of Alba hit the beach this week with her boy toy husband, and RadarOnline.com has photos of their romantic summer getaway.
Dressed in a floral bikini and bright purple sunglasses, the Spanish aristocrat, who holds the record for the most titles, wasn't worried about the aging affects of the sun as she and Alfonso Diez, 61, enjoyed a frolic in the Mediterranean off the island of Formentera.
Article continues below advertisement
As RadarOnline.com previously reported, the couple was married in an extravagant ceremony last October in her 15th century palace in Seville, Spain, despite initial protests from her children and grandchildren.
Throughout their beach day the elderly duchess was kept safe and sound as her new husband firmly held her left hand, while a mystery friend in a pink cut-out swimsuit lent support on the other side.
Also known as Maria del Rosario Cayetana Alfonso Victoria Eugenia Francisca Fitz-James Stuart y Silva, the glorious grandma is famous for her eclectic style and colorful clothes, making her latest beach attire the perfect summer outfit for her.
After they were done cooling down in the water, the newlywed covered up with a sheer flowered dress and floppy pink hat for a walk on the sand.
Just like many Hollywood stars, the head of the 539-year-old House of Alba faced a sex scandal earlier this year when a 30-year-old photograph of the duchess as she sunbathed topless in Ibiza was splashed on the cover of the racy Spanish magazine Interviu.