The Sick Custom-Made Bed Where Polygamist Cult Leader Warren Jeffs Abused Children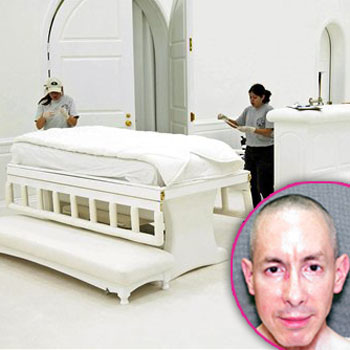 By Debbie Emery - RadarOnline.com Reporter
Just when you think that the dark world of cult leader Warren Jeffs couldn't get any sicker, graphic images have emerged of the bed that he had personally made for the purpose of sexually assaulting a multitude of underage girls.
Made of sturdy hardwood so it wouldn't rattle and covered with a plastic sheet to "protect the mattress from what will happen on it," the place of rest turned into a method of torture for the children of the Fundamentalist Church of Jesus Christ of Latter Day Saints in the desert town of Colorado City on the border between Arizona and Utah.
Article continues below advertisement
The disturbing details came to light on Wednesday when excerpts from the cult leader's diary were read out in court as part of an attempt by the State of Texas to seize the multimillion dollar ranch owned by the FLDS.
As RadarOnline.com previously reported, Jeffs, 56, is currently behind bars after being convicted of the sexual assault of two girls, ages 12 and 14, whom he claims were his "spiritual brides," for which he is serving a life sentence in a Texas prison. At trial, prosecutors presented DNA evidence to show he fathered a child with one of those girls, age 15.
The diary, which was seized in the raid, offers a narrative of daily events from 2002 to 2006, when Jeffs was arrested. He meticulously documented the events as his followers in the Fundamentalist Church of Jesus Christ of Latter Day Saints were being driven from their home base in Utah, reported the Houston Chronicle.
The journal includes his communications with FLDS leaders, mundane activities and revelations in which he claimed to receive instructions from God.
Article continues below advertisement
The altar-like bed that Jeffs ordered to be made and then placed on towering white limestone was discovered by investigators when they raided the ranch in April 2008 following a call to a domestic abuse hotline that turned out to be false, and took 439 children into state custody.
"It should be made so the table top can come off. It will be on wheels. When the mattress is in place, this bench will be to the right side of the bed. This will be made so that it can be taken apart and stored in a closet where no one can see it," wrote Jeffs in the macabre journals that have been dubbed his "priesthood records."
"When I need it, I will pull it out and set it up. The bed will be a size big enough for me to lay on. ... It will be covered with a sheet, but it will have a plastic cover to protect the mattress from what will happen on it."
Jurors at his trial were brought to tears after listening to audio tapes that included the assault of a 12-year-old girl who was restrained to the bed.
As would be expected because of the illicit nature of the estate, Jeffs was adamant about keeping the ranch in Texas a safe-guarded secret, referring only to the new site as "R17" because of its location about 17 hours away from FLDS communities on the border between Utah and Arizona, known as Short Creek.
Article continues below advertisement
Jeffs also admonished the faithful to sacrifice their lives in the event of a government raid on the compound, which today is valued at more than $20 million.
Dictating from a location he described as 2420 County Road 300, Schleicher County, Texas, Jeffs issued a chilling order: "If the government officials come on this land, every man must be willing to give their life before they allow them to enter on the temple grounds or inside the temple."