Exclusive
Warren Jeffs Raping 12-Year-Old 'Spiritual Wife' -- Caught On Tape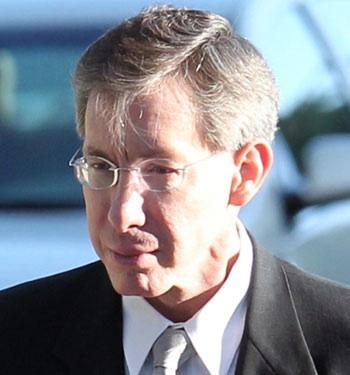 By Alexis Tereszcuk - RadarOnline.com Senior Reporter
Prosecutors in the Warren Jeffs sexual assault case presented their last piece of evidence in his trial Wednesday - a chilling recording of him having sex with a 12-year-old girl who he claims was his "spiritual wife."
The polygamist cult leader's voice can be clearly heard on the shocking recording, ordering the little girl to "take your clothes off," as she is heard crying.
Article continues below advertisement
Jeffs is then heard asking the child: "How do you feel, doesn't it feel good?" According to HLN show Issues With Jane Velez Mitchell.
The 55-year-old continues to coach the girl throughout the ordeal, advising her to "just don't think about the pain."
Jeffs is on trial in Texas for sexually assaulting two girls, ages 12 and 15, but he claims they were his wives in a spiritual marriage.
There were reportedly other people present in the room during the "marriage consummation" and prosecutors claim that women in the cult were holding the little girl down as Jeffs raped her.
At one point Jeffs is heard ordering "the rest of you back away," and the horrific fact that they likely tied-up the little girl during her assault was made apparent.
There were other sounds on the tape that suggest that the two were having sex.
The graphic recording shocked jurors, one of whom dabbed her eyes with a tissue while the audio was played.
At another juncture Jeffs orders the girl "to feel his presence...the spirit of God," on the recording.
Article continues below advertisement