Exclusive
Warren Jeffs On A Bike And On The Run From The Law — Photos Released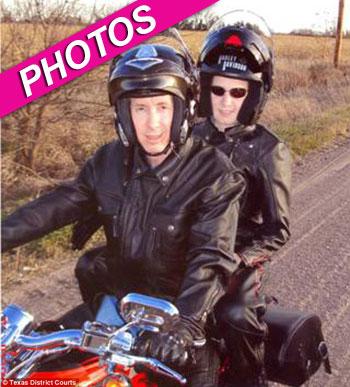 - RadarOnline.com Senior Reporter
Polygamist cult leader Warren Jeffs is sitting in prison serving his sentence of life plus 20 years for raping two underage girls, ages 12 and 15, who he claimed were his "spiritual wives."
The 55-year-old leader of the Fundamentalist Church of Jesus Christ of Latter Day Saints led his congregation with strictly conservative rules, from their clothing, to no alcohol to almost no exposure to the outside world, so it is shocking to see the photographs of him in modern clothes taken while he was on the run from the law.
Article continues below advertisement
Jeffs was on the FBI's Most Wanted List before his arrest in 2006, but he and one of his favorite young wives, Naomie Jessop, toured the country together as they hid from the feds.
Jeffs is seen riding a motorcycle with Jessop, both clad in leather and she has her arms around him. He is also seen posing in front of landmarks in St. Louis wearing t-shirts, and Naomie is wearing a tank top in another photo.