Exclusive
Warren Jeffs Gets Life Plus 20 Years -- Shocking Photo Of His 50 Brides Released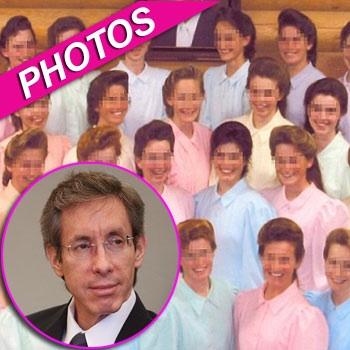 - RadarOnline.com Senior Reporter
Polygamist cult leader Warren Jeffs received the maximum sentence from a Texas jury on Tuesday - life in prison plus 20 years following his convictions of aggravated sexual assault and sexual assault of two young girls, ages 12 and 15, who he claimed were his "spiritual brides," and a shocking new photo of 50 of his young wives was released following the sentence.
The picture shows 50 young girls lined up who are just some of the many "spiritual wives" of Warren Jeffs. Dressed in pastel with the same prairie girl hairstyles, the girls are smiling in front of a picture of Jeffs, the man who sexually abused them and manipulated them into a subservient lifestyle.
Article continues below advertisement
He may have as many as 78 wives according to the prosecution.
The horrific evidence the prosecution presented during the sentencing phase of the trial included shocking audio tapes of Jeffs instructing young girls how to sexually please him and recordings of him having sex. One juror cried as the sexually graphic tapes were played.
Jeffs, 55, was the leader of the Fundamentalist Church of Jesus Christ of Latter Day Saints, and prosecutors claimed that he raped multiple girls and even sodomized his nephew when the young boy was just 5-years-old.
In court it was revealed that some of the older wives held the 12-year-old girl down as Jeffs raped her. State witness Rebecca Musser who was married as a young girl to Jeffs' father testified that there were beds in the temple where members of the cult witnessed Jeffs raping young girls and people were able to videotape the assault.
The jury deliberated for less than 30 minutes before handing down the sentence.