QVC Hostess Faints Live On TV, Co-Host Keeps Selling Products!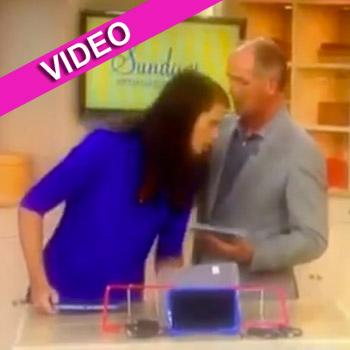 Poor Cassie Slane.
The QVC hostess was in the midst of a segment selling computer tablets on the show Sundays with Carolyn and Dan, when she suddenly looked overwhelmed, grabbed her chest and fainted, and RadarOnline.com has the video that's going viral.
"Kids love tablets … they love playing with tablets, they love the games," Slane said before collapsing, at which point Dan Hughes, the other host in the segment, held her upright.
Article continues below advertisement
Watch the video on RadarOnline.com
To the credit of Hughes, the pitchman didn't miss a beat in spite of the situation unfolding around him, continuing to plug the product.
Slane regained her composure, and tried to continue the segment but couldn't, at which point, Hughes conceded, "Cassie's having a little problem."
QVC later confirmed Slane -- who passed out on the air two years ago -- had a "brief fainting spell," and the host herself tweeted, "Thanks everyone for the well wishes. Feeling better today."