Australian Politician Is Blasted For Ignoring TV Panelist Collapsed Next To Her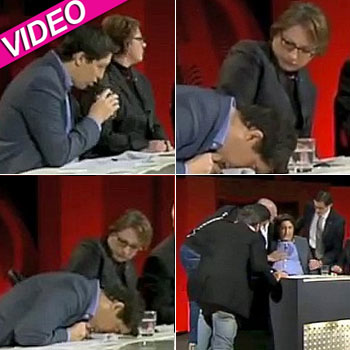 Liberal politician Sophie Mirabella is under fire after she appeared to recoil then completely ignore the panelist who slumped onto the table next to her on an Australia TV show.
Simon Sheikh, who is the director of an organization called -- ironically enough -- GetUp, hit the table with an audible thump during a debate about climate change on Down Under's ABC show Q&A.
While Sophie just pulled back and stared, Minister Greg Combet stopped in mid-sentence then jumped into action. "I'm not quite sure what Simon's doing there, is he okay? He's not okay," Mr. Combet said, before rushing over to him.
Article continues below advertisement
Mirabella kept leaning back from Mr. Sheikh, who was seated next to her on the panel. She finally put her hand on his shoulder, shortly before he sat up and said, "I'm sorry, I passed out."
She said of the situation: "Like some in the audience, I thought that Simon was having a laugh or having a go at Greg Combet, when it was obvious that there was a medical situation, there was a crew that came to help, and we were all obviously in shock.
"But it was not apparent to me, sitting, not facing him, what had happened."
Viewers criticized Mirabella on Twitter for her reaction to the collapse, branding her "cold" and joking that they hope they're never in trouble when she's around.
Labor backbencher Ed Husic defended Mirabella on Twitter though: "You can criticise Sophie Mirabella about a lot of things - don't criticise her for her reaction to Simon's #qanda collapse".
Article continues below advertisement
Sheikh's wife, climate activist Anna Rose, was at the show in western Sydney and accompanied him to Liverpool Hospital.
He later said he had a severe flu, and had been overdoing it. Doctors ordered him to rest.
***
Unfortunately, due to experiencing unusually high levels of traffic we have had to temporarily suspend our comments function. We will resume comments again as soon as possible.
RELATED STORIES: