Newark Mayor Cory Booker Earns His Super Hero Stripes By Saving Neighbor From A Fire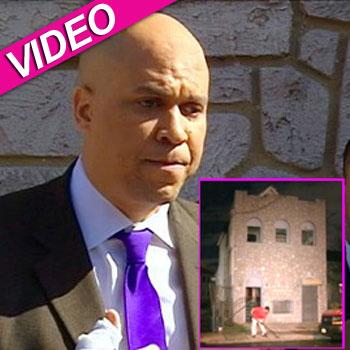 By Debbie Emery - Radar Reporter
Unlike Gotham or Metropolis, Newark doesn't need a super hero to rescue residents in distress, from now on they can just call their mayor when crisis strikes.
Cory Booker, who has been Mayor of New Jersey's largest city since 2006, claims he was just doing "what most neighbors would do," when he ran into a building to save a woman on Thursday evening and faced a fiery blaze that left him with second-degree burns and smoke inhalation, reported ABCNews.com.
Article continues below advertisement
"It was a really frightening experience for me. I didn't think we were going to get out of there," said 43-year-old Booker, recalling how he returned home to find flames shooting out of his neighbor's home and the woman who he had known for years screaming that her daughter was trapped inside.
The mayor and two of his security detail dashed into the home where Booker was faced with a roaring blaze and a booming explosion when he reached the top of the stairs.
Newark Police Detective Alex Rodriguez tried to get him to leave and the two "had words," according to Booker, who refused to back down. "I did not feel bravery, I felt terror. It was a very scary moment. I couldn't breathe. It was a moment I felt very religious," he said on Friday.
Despite the thick smoke, he was able to follow the young woman's screams to find her and carried her over his shoulder to safety like a real fireman saving the day.
Article continues below advertisement
"She was incredibly gracious to me last night, she was very gracious today. The young lady was very disoriented, quite frankly,"revealed Booker, who went on to tweet about the dramatic incident.
"Thanks 2 all who are concerned. Just suffering smoke inhalation. We got the woman out of the house. We are both off to hospital. I will b ok," he wrote to his one million Twitter followers.
The rescued neighbor was listed in stable condition with second-degree burns to her back and neck, while the Democratic mayor is now trending on Twitter and being bombarded by jokes about his heroics.
"Seal Team 6 received training from Cory Booker before getting bin Laden," one witty follower wrote.
Watch video about the brave mayor below: