Criminal Charges Being Weighed In Christmas Fire That Killed Five In Connecticut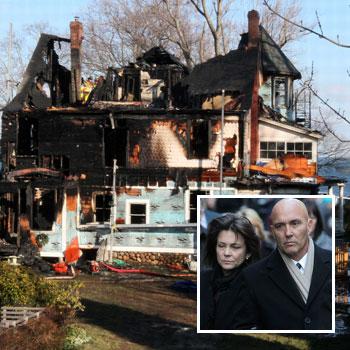 Criminal charges are possible in the devastating fire that killed five in Stamford, Conn. Christmas morning. Veteran ad exec Madonna Badger's three children and her parents all died in the blaze. She and her boyfriend Michael Borcina who was handling renovations on Badger's newly purchased waterfront mansion, escaped with injuries.
Now The New York Post has learned that the Stamford police department is interviewing several workers on the renovation project, and criminal charges are being weighed.
Article continues below advertisement
"We've got a lot more interviews scheduled," Police Capt. Richard Conklin told The Post. The home had no new certificate of occupancy, and its smoke-detector system, installed several months before the fire, was not hooked up, according to officials.
Badger, who created the iconic Mark Wahlberg Calvin Klein underwear ad, was in the process of divorcing her husband, the father of the three girls who died.
She and Borcina had been wrapping presents by the fireplace until about 3 am Christmas, and when they went to bed, Borcina put the Yule log embers in a bucket, which was left in a foyer. It was those embers that started the killer fire.
Borcina's contractor registration in Connecticut expired in 2000. His home-improvement license in New York expired in June 2010. He's hired top criminal attorney Eugene Riccio to defend him in the event charges are filed,
Article continues below advertisement