Special Forces Soldier Dies Trying To Save His Children From Burning Home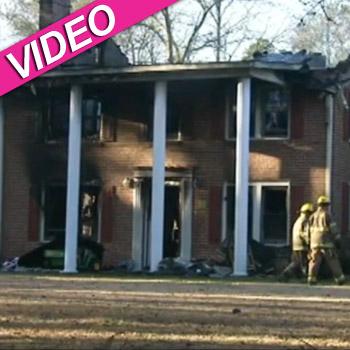 By Debbie Emery - RadarOnline.com Reporter
It should have been a happy time for Chief Warrant Officer Edward Cantrell, who was finally settling into being back at home with his family after serving as a Green Beret in Afghanistan.
Sadly, instead of celebrating his safe return from war, wife Louise Cantrell is now mourning a triple loss after her husband died trying to save their two daughters, Isabella, 6, and Natalia, 4, from their burning home, where they too perished, reported WRAL.com.
Article continues below advertisement
Edward, 36, and Louise, 37, jumped from the second floor of their century-old house in Hope Mills, near Fayetteville in North Carolina, in the early hours of Tuesday morning after an aggressive fire broke out.
As Louise ran to get help from a nearby nursing home, the brave Green Beret wrapped himself in a blanket and rushed back inside to save the girls, but "They never made it out," said Debbie Tanna, a spokeswoman for the sheriff's office.
Firefighters found the loving father and his daughters inside the house, where they apparently died from smoke inhalation. Sasha, the family's Rottweiler, managed to escape and is currently being cared for by a neighbor.
"It's terrible. Special Forces, they can go out and save America, but they can't save the children. It's heartbreaking," family acquaintance Cindy Jacobs told WRAL.com.
Investigators explained that the 1920s home burned much more easily than a modern house would. "You're dealing with tinder-box conditions considering that you're trying to put out a fire in a house of this age," Tanna revealed, adding that the roof collapsed and flames charred the outside of the front door and windows on both floors.
Article continues below advertisement
The house did have fire detectors as emergency crews, who spent four hours trying to put out the blaze, heard them beeping when they arrived at the scene.
Cantrell served with the 3rd Special Forces Group based at Fort Bragg, North Carolina. He returned from a deployment to Afghanistan last August.
Watch video about the heartbreaking story from WRAL.com below:
RELATED STORIES:
Madonna Badger Tried To Kill Herself Amid Tragic Christmas Fire