Madonna Badger Questioned By Police About Christmas Fire That Killed Her Three Daughters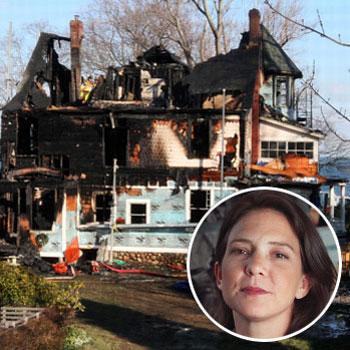 Madonna Badger has been questioned extensively by police for the first time since losing her three daughters and her parents in a tragic Christmas fire.
The advertising executive was interviewed on Thursday night, Stamford police sergeant Paul Guzda confirmed although he would not reveal the nature of the conversations.
The inferno in Badger's Connecticut home took the lives of her seven-year-old twins Grace and Sarah Badger, Lily Badger, 10, and her parents Lomer and Pauline Johnson.
Article continues below advertisement
As RadarOnline.com previous reported, Badger had to be physically restrained as she desperately tried to re-enter the house in the early hours of the fateful day in an effort to save her girls.
Her boyfriend Michael Borcina, who also survived the fire, had told officials that he put Yule log embers in a bag of discarded ash in an entryway which is thought to have been where the inferno started.
Assistant Fire Chief Peter Brown previously told RadarOnline that it is an ongoing investigation but that "the preliminary cause was accidental and that is the way it will be expected to stay."
Borcina's constructin company was handling renovation work on Badger's recently purchased $1.7 million waterfront home.
Sgt. Guzda says police plan on interviewing Borcina soon too as officials want to find out if the large home had working smoke detectors.
The Connecticut Department of Consumer Protection has said that Borcina nor his company had the right paperwork to conduct construction work in the state but did not say if they were going to launch an investigation.
Article continues below advertisement