Mayor Of San Juan, Puerto Rico In The Running For Most Bizarre Christmas Cards Ever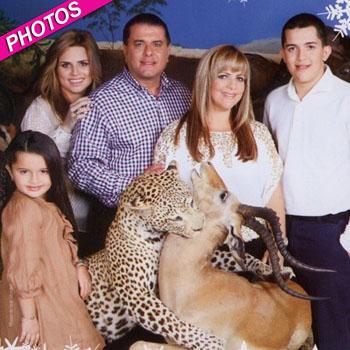 Watch out Rudolf there's a leopard on the loose and he doesn't look pleased that it's Christmas time!
Jorge Santini, the Mayor of San Juan, Puerto Rico has released his official family Christmas cards, and to say that they are rather bizarre would be an understatement!
In one shot, Santini, his wife and three children, smile placidly for the camera while a stuffed leopard rips out the throat of a giselle in front of them.
Article continues below advertisement
And the caption is equally puzzling: "May this Christmas illuminate your dreams," fitting if you are a taxidermist perhaps.
In another shot a decidedly unrealistic looking penguin gazes into the ear of the Mayor's teenage son as Santini embraces his wife, and in the third picture a huge stuffed black bear lurches in the background as a dead-looking bird swoops over the head of the Mayor.
According to the Huffington Post, some of Santini's political rivals have interpreted the scenes as veiled threats about the upcoming elections.