Katniss To The Rescue! Jennifer Lawrence Rushes To Help Woman After Dramatic Collapse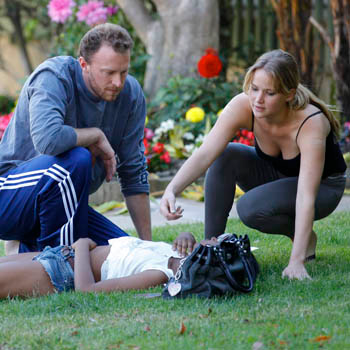 No airs and graces for this Hollywood star!
She was plucky and tenacious as Katniss Everdeen in The Hunger Games, and apparently Jennifer Lawrence is a bit of an action hero in real life, too.
The 21-year-old rushed to the aid of a woman who fainted outside the star's Santa Monica apartment complex without a moment's thought.
Kentucky-born Jennifer was walking her dog with her mom when the drama unfolded, as captured by X17.
Article continues below advertisement
She was one of the first to reach the unfortunate woman after she wilted on the grass in front of her.
Jennifer and a male bystander then tried to bring her round while they waited for paramedics.
The cavalry arrived in some style as a group of SIX police officers and a paramedic eventually showed up at the scene.
Later the woman was given a clean bill of health.
RELATED STORIES:
Watch Out Nicholas! John Mayer Has His Eyes On Your Girlfriend Jennifer Lawrence!