Seven Things You Didn't Know About The Hunger Games Star Jennifer Lawrence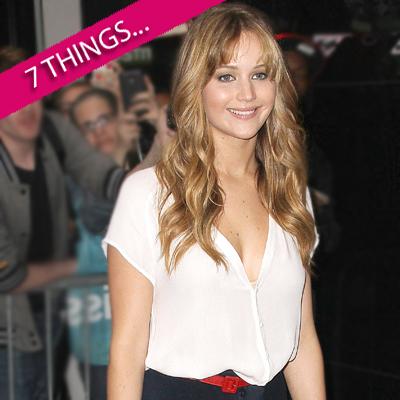 Jennifer Lawrence is Hollywood's newest 'It Girl'. Her role as Katniss Everdeen in The Hunger Games -- likely Hollywood's biggest moneymaker of 2012 -- has catapulted her to A-List status overnight.
With that in mind, let's take a closer look at this 21-year-old beauty and present the seven things you didn't know about her.
7. She's more sizzle than steak: Unlike many in today's pop culture spectrum, Lawrence seems like a serious performer dedicated to her craft, as opposed to being in it for the fame and money that comes along. "Where are the Robert Redfords and Paul Newmans of my age group? I love James Franco, but where's the next James Franco? Where are the hunks who can act?" she once asked. In another chat, she said she'd never want to become as famous as Twilight star Kristen Stewart, as she "can't imagine how she'd feel if all of a sudden her life was pandemonium."
Article continues below advertisement
6. ... And it seems to be paying off paying off: At just 20, Lawrence became the second-youngest actress every to receive a coveted Oscar nomination for Best Actress In A Leading Role for Winter's Bone, ultimately losing out to Black Swan mega-star Natalie Portman. Keisha Castle-Hughes, at 13, was the youngest for 2002's Whale Rider.
5. She was "discovered": Cliché as it sounds, Lawrence's starring role in what could be one of the biggest moneymakers ever can all be traced back to a fateful trip to New York City in the spring of 2004 to scout modeling and talent agencies. While shooting a commercial for H&M, an agent invited Lawrence and her mother on another audition in front of more talent evaluators. The group of entertainment professionals was so impressed by her raw talent, they wanted her to spend the summer there for further acting opportunities. She did and more doors opened, eventually leading to her family relocating to Los Angeles.
4. She's a sporty stunner: Lawrence was an avid athlete, having been involved in cheerleading, field hockey and softball prior to making acting her career focal point.
3. She's not stranger to fervent fandom: The Hunger Games already has attracted a huge tween audience -- think Twilight huge -- thanks to the diehard fans from the books it's based on. Lawrence says she shared the same devotion to the wildly-popular Harry Potter series. "If (the cast) had ever come to Kentucky, I would've been screaming, painted posters, painted face, witch clothes like the whole thing," she told the AP.
Article continues below advertisement
2. She's another celeb not on the Kardashian bandwagon: Like Jonah Hill and Jon Hamm, Jennifer doesn't exactly have a rosy perception of TV's reality powerhouse, recently comparing the lurid appeal of The Hunger Games competition to the socialite capitalizing on her wedding, 72-day marriage and divorce all before rolling cameras. "I was watching the Kardashian girl getting divorced and that's a tragedy for anyone. But they're using it for entertainment, and we're watching it. The books hold up a terrible kind of mirror: This is what our society could be like if we became desensitized to trauma and to each other's pain."
1. She's not in danger of landing on the "scary skinny" list: The beauty, speaking to Seventeen magazine, made it clear she won't succumb to the body image pressures many of her peers -- particularly in Hollywood -- find themselves struggling with. "I remember when I was 13 and it was cool to pretend to have an eating disorder because there were rumors that Lindsay Lohan and Nicole Richie were anorexic. I thought it was crazy. I went home and told my mom, 'Nobody's eating bread. I just had to finish everyone's burgers.'" She went on to say, "I don't really diet or anything. I'm miserable when I'm dieting and I like the way I look. I'm really sick of all these actresses looking like birds ... I'd rather look a little chubby on camera and look like a person in real life, than look great on screen and look like a scarecrow in real life."