Jennifer Lawrence 'I Didn't Know If Hunger Games Was Worth Changing My Life For'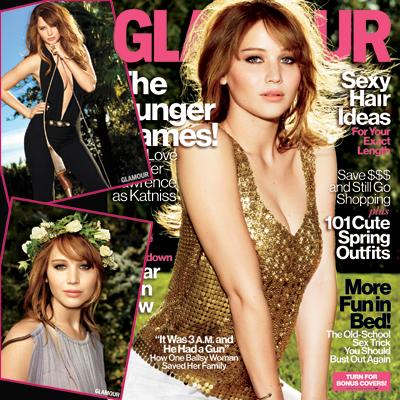 By Leah Ornstein - Radar Style & Beauty Editor
e was nominated for an Academy Award for her powerful performance in Winter's Bone – but it was her decision to take the starring role in The Hunger Games that is about to transform her into an international mega-star.
In the April 2012 issue of Glamour magazine, Lawrence discusses how she sifted through her fears of superstardom and decided to take the life-changing role of Katnis in the highly-anticipated film franchise.
Article continues below advertisement
"I gave myself three days," she explains about her decision-making process. "I knew from reading the books that I loved The Hunger Games. I just didn't know if it was worth changing my life for."
"I'm at a peaceful place right now. The people who used to ignore me at parties, now they're nice to me and kissing my ass. But nobody's staked outside my house. I wanted to make sure that when I said yes, I wouldn't regret it. And I don't regret it. I would have said no because I was scared, and then I would have been that bitter actress telling my grandkids, 'I'm the one that turned it down.'"
"In some ways, it's a hard life, but it's a great professional life," she explains abut life in the public eye. "I'm doing what I love, and then I get months and months of rest. I have a lot of money for a 21-year-old. I can't stand it when actors complain."
While many actors splurge on a new car or designer duds after achievingfame, Jennifer allows herself to snack in hotel rooms!
"Just recently I started letting myself eat things from the minibar. When we were kids, we would never open the minibar. A $6 Snickers bar? But the other day I was in a hotel and I was staring at a Snickers bar, and I finally just ate it. Then it was like something in me snapped. I opened all these drinks. I thought: I can do it now. Now I'm all grown-up. I can eat things from the minibar."