Ouch! Jennifer Lawrence Compares 'Tragedy' Of Kim Kardashian's Divorce To The Hunger Games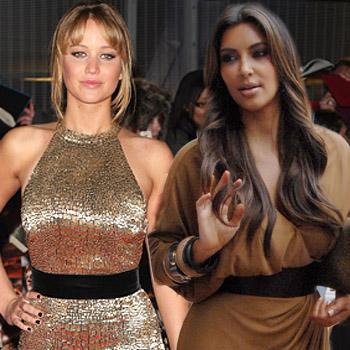 Jennifer Lawrence does not advise Keeping up with the Kardashians!
In a recent interview with PARADE, The Hunger Games star compared Kim Kardashian's very public divorce drama with Kris Humphries to the plot of the popular book series-turned-blockbuster film franchise.
The 21-year-old parallels The Hunger Games, which centers around a brutally violent, battle to the death, annual event that is televised live to the fictional nation of Panem, to the nature and danger of reality television using Kim's divorce for ratings as the perfect example.
Article continues below advertisement
"I was watching the Kardashian girl getting divorced, and that's a tragedy for anyone," she says, neglecting to use Kim's first name.
"But they're using it for entertainment, and we're watching it. The books hold up a terrible kind of mirror: This is what our society could be like if we became desensitized to trauma and to each other's pain."
Kim has been feeling the heat lately! The reality star has embroiled in a war of words with Mad Men star Jon Hamm, after the actor slammed her popularity to Elle UK.