American Idol: Girl Faints Onstage, Another High-Profile Daughter Strikes Out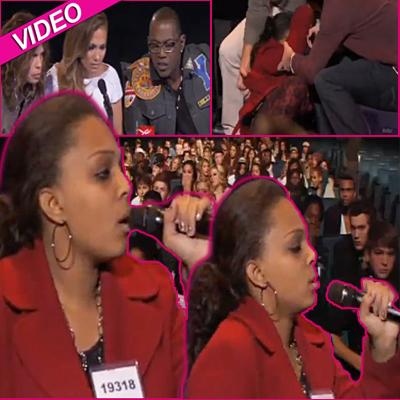 The plague seemingly hit American Idol Wednesday, as many of the contestants had to overcome winter colds, runny noses, sore throats and lightheadedness as the show's all-important Hollywood week rolled on.
Just to give you an example of how the show resembled a doctor's waiting room Wednesday, a singer in the group Area 451 named Imani Handy fainted onstage. (We find out that Imani had fainted on the way there as well, but her mother insisted the show go on.)
Article continues below advertisement
Even more awkward, one of the members of Handys group, Johnny Keyser, kept singing after Handy fainted next to him, before Randy Jackson waved him off.
And just as Jim Carrey's daughter Jane competed in the show earlier this year, the wiry 16-year-old daughter of '88 MLB ERA king Joe Magrane, Shannon, gave a spirited run with her rendition of Wonderful World, but the results weren't wonderful for her, as she was sent home just like Jane.
Among the standouts Wednesday included Group Sauce, whose rendition of Hold On got them big applause from judges Jackson, Steven Tyler and Jennifer Lopez, along with a berth to the next round; and jazzy singer Jen Hirsch, who also got a standing O from the trio for her version of Georgia on My Mind.
Watch the video on RadarOnline.com
Noteworthy is that American Idol, a perennial ratings winner in its genre, is fast losing ground to NBC's The Voice, which had 16.3 million viewers tune in for its Monday broadcast, a mere 13 percent less than the far-more established Idol. The show is built around its critically-acclaimed A-list quartet of judges: Adam Levine, Christina Aguilera, Cee Lo Green and Blake Shelton.
Article continues below advertisement
"They have a team of judges that could not feel more contemporary and in the moment and curious," ex-Los Angeles Times editor Richard Rushfield told USA Today of The Voice. "I think the whole tone of it is more playful and low-key, kind of an antidote to the giant spectacle of American Idol."