Exclusive
Watch Out Nicholas! John Mayer Has His Eyes On Your Girlfriend Jennifer Lawrence!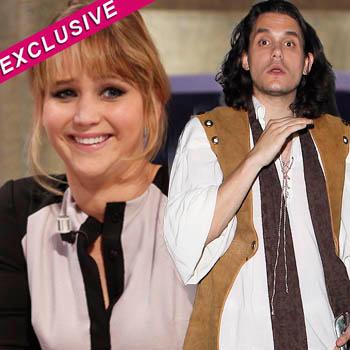 Article continues below advertisement
You could scarcely tell John's body is a wonderland under his puffy shirt and knickers tucked into lace up boots, and Jennifer was the fairest of them all in her delicate bodice. John paid special attention to Hollywood's latest 'It' Girl all night and she was clearly loving the attention!
"It was almost like she was a little nervous being around him. She kept giggling and covering her mouth. It was cute," an eyewitness dishes.
"And John was eyeing up Jennifer like he was a dog and she was a juicy pork chop! When he lays on the charm he lays it on real thick!"
Of course John was busting out his best moves and impressing everyone with his famous wit. "He's really well read so he kept using his knowledge of the medieval era to make puns and crack everyone up. He was even putting on an English accent at times and ordering 'beer-eth.' Jennifer thought he was a riot. It was like a freshman having a crush on the captain of the football team."
Article continues below advertisement
Alas though, Mayer did not take his fair maiden that night, as he went out carousing with his cast of merry men at the Palihouse in West Hollywood after the jaunt.
But, another source recently spotted Jennifer shopping with John and Zooey Deschanel on trendy Melrose Avenue. "John could hardly take his eyes off Jennifer. It looked like he was totally smitten!
"At one point he was walking along behind her and massaging her shoulders."