Ducks Rescued From Hoarder Get Their First Swim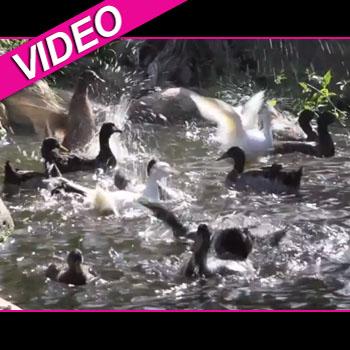 We dare you not to smile watching this video.
The Woodstock Farm Animal Sanctuary has shared a video of 26 ducks recently rescued from a hoarder.
The birds had been kept in tiny cages without sufficient food or water and had never been allowed to swim in water.
Watch the video on RadarOnline.com
Located in the same city as the famous music festival, the Woodstock Sanctuary has a bucolic garden with a pond that the ducks now call home.
Article continues below advertisement
Initially confused by the whole swimming thing, the ducks quickly acclimated to their new surroundings and splashed and swam around.
The video led to a grant from the ASPCA to help care for the lucky duckies.