Gayest Bar Mitzvah Ever! Awesome Madonna Vogue Dance Recreated Twenty Years Later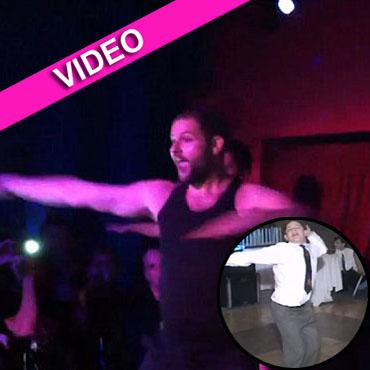 By Amber Goodhand - RadarOnline.com News Editor
Chicago native Shaun Sperling made headlines earlier this summer when a video of him at his Bar Mitzvah surfaced in which he did a full-on Madonna inspired Vogue dance — and now 20 years later he's at it again and RadarOnline.com has both videos.
Shaun's coming of age as a man in 1992 became a viral sensation in August when he posted the clip on the Material Girl's birthday, and now 33-years-old, he recreated the dance with all the moves and Madonna button-up shirt at a gay cabaret club for a charity.
Article continues below advertisement
An openly gay man now, Shaun spiced up his reunion performance by adding a couple of bare-chested backup dancers to the routine, but his Vogue moves are just as sharp and the crowd goes wild.
The original video garnered over 1 million hits, but Shaun's latest creation is quickly gaining steam and has nearly 20,000 in just one day.
See both of Shaun's videos below: