Armless Woman Inspires Millions With Videos Showing Her Driving & Eating With Her Feet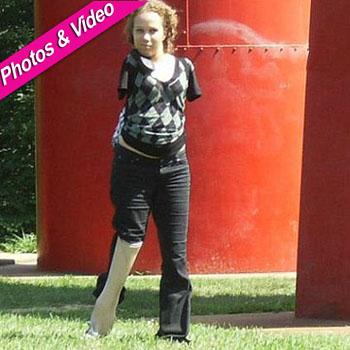 A woman with no arms who says she has struggled to find employment has become a YouTube sensation after posting a series of videos proving just how capable she is.
Dubbing herself Tisha Unarmed, Letisha Shelton has shown the world how she uses her feet to perform everyday tasks from driving and putting on make-up to using a keyboard and eating sushi with chopsticks.
While the graphic designer has yet to find a job, more than 1.5 million have looked at her inspirational videos, and RadarOnline.com has a clip of one of them.
Article continues below advertisement
"If I'm gonna go on an interview they're gonna look at me and go: 'Oh, she's disabled we're gonna have to worry about this. How's she gonna take care of the job?'" Shelton, 25, told KTVI News in St. Louis, Missouri where she lives.
"And I just wanted to ease their mind, and be like, I can do anything that you can do.'"
Born without arms, Shelton says she was inspired to upload the videos after going to Next Step for Life, an employment service that offers job guidance to people with disabilities.
After being advised to network, in August she started uploading videos of herself performing ordinary tasks. She says the footage showing her driving a car with her feet has been the most popular.
But while Shelton may have earned more than 7,000 YouTube subscribers she has yet to find employment.
She said: "My passion is graphic design and I love doing that more than anything."
Instead she has earned heartfelt messages from her followers. Shelton says: "I'm just like: 'Wow.' All these people are being so supportive."