Talk About An About Face! 'Tanning Mom' Patricia Krentcil Promotes Skin Care In YouTube Series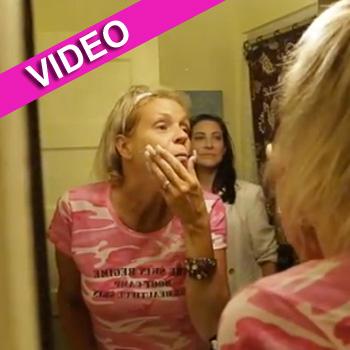 New Jersey's infamous 'Tanning Mom' Patricia Krentcil has made an about face -- she's now promoting healthy skin care in a new infomercial series!
Krentcil -- who became a national punch line earlier this year for her ridiculously deep, dark tan -- is appearing in a YouTube series promoting skin care as part of author Dana Ramos' latest book, The Skin Regime: Boot Camp for Beautiful Skin.
Article continues below advertisement
In one episode, titled "Tanning Mom Gets A Face Peel," Krentcil naturally hesitates when she's handed a tube of sunscreen.
"I'm not thrilled," said Krentcil. "But I'm going to do it because I'm 44 and I want my face to look more natural and this, if anything, will help that."
In the video, Krentcil's face is given a cleansing; later, she puts on moisturizer.
Watch the video on RadarOnline.com
This Friday, Krentcil will be a special guest for the launch of Ramo's book at Westchester Mixed Martial Arts and Fitness in Kisco, New York.
Last month, Krentcil and family acknowledged her problems with new fame and said she was getting help from the skin care expert Ramos.
At least 5 percent of the proceeds from the book will be donated to the Skin Cancer Foundation.
As RadarOnline.com has previously reported, Krentcil, 44, was accused of bringing her fair-skinned 5-year-old daughter into a tanning salon bed last April, resulting in a slight sunburn.
Article continues below advertisement
In May, she pled not guilty to endangering her child and was released on $2,500 bond.
The case is set to be heard in front of a New Jersey Grand Jury.
If convicted, she could be jailed for up to a maximum of five years.