'Tanning Mom' Patricia Krentcil Kicked Out Of Her Own Roast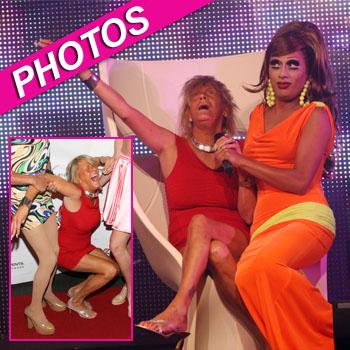 "Tanning Mom" Patricia Krentcil was removed from a roast in her honor Wednesday at a New York drag queen club, the NY Post reported, after she was so drunk she couldn't speak properly or stand up, and RadarOnline.com has photos from the event.
The Nutley, New Jersey native "showed up for the red carpet and fell over," at Hell's Kitchen's XL Club, a witness told the paper, adding the "Tanning Mom," at one point, "got up and tried to attack a drag queen."
Article continues below advertisement
Bianca del Rio, a host at the event, said the 44-year-old was incoherent and belligerent at the event.
"We asked her what she wanted to drink and she slurred, 'I didn't put my kid in a tanning bed!'" del Rio told the paper, noting a contingency plan organizers had to put into effect.
"We came up with a code word earlier: It was 'Christmas,'" del Rio said. "After about five minutes, we were just screaming 'Christmas,' and security came and took her out."
Krentcil was previously parodied on Saturday Night Live by Kristen Wiig.
As RadarOnline.com previously reported, Krentcil was arrested April 24 on a second-degree child endangerment charge when authorities said she took her then 5-year-old daughter Anna into a stand-up tanning booth, where the child was burned. (According to New Jersey law, no one 13 years old or younger is allowed to enter the booths.)